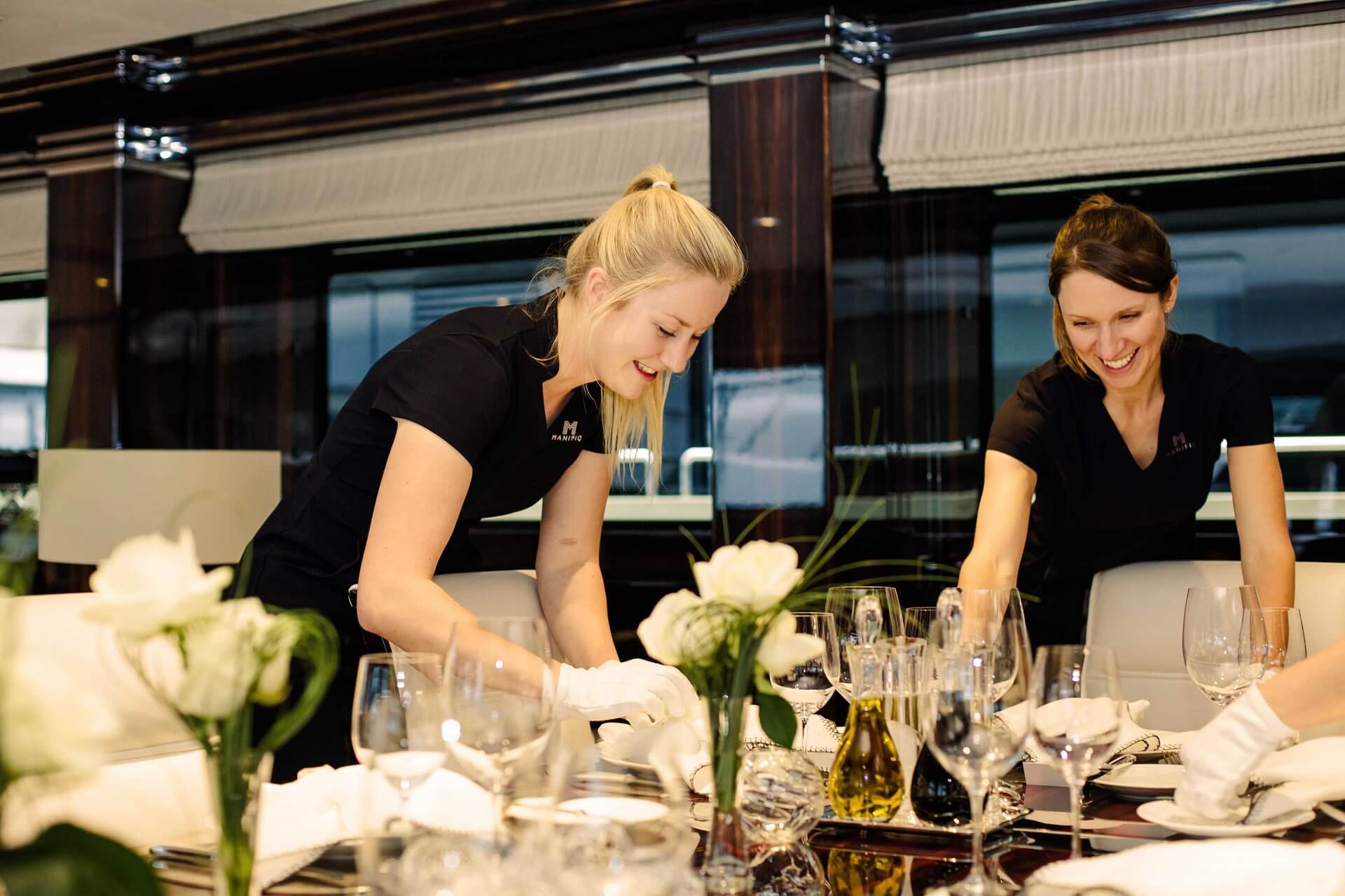 Transition from Chief Stewardess to Purser role
EVER WONDERED HOW TO TRANSFER FROM A CHIEF STEWARDESS ROLE TO A PURSER ROLE? IF SO READ ON…
Working in the yachting industry is one of the most exciting careers to pursue. Especially for those with a love of far-flung travel and a passion for five-star hospitality. As you'd expect in such a highly desirable industry, yacht jobs are in high demand – in 2018, candidate registration increased by eight per cent in just a year.
But what happens when you're established in a role and want to move up the ladder to a Purser role? How do you go about it, where do you find yacht purser vacancies and what skills are required? These are just some of the questions we'll answer in this feature.
Transferable Skills
A Chief stewardess is a very challenging yacht role, that requires years of experience and dedication. Working as the head of the yacht's interior requires great people and organisational skills, a complete understanding of luxury service, and always putting your guests needs first.
A Purser position is a natural progression for a Chief stew as it allows you to take on a more senior administration role and gives you the chance to step back from being at the sharp end of service.
If you are looking to transfer from a Chief stew to a Purser role you will need to make sure that you have a good 4-5 years experience in a leading interior position before looking to make the transition.
The Role of the Yacht Purser
As a yacht Purser you will require a high level of responsibility and business acumen. As well as general administration of the yacht, it requires financial management, knowledge of a maritime law, leadership skills and utmost discretion at all times. Remaining under the helm of the Captain, the Purser may oversee the interior department and will have far greater administration than a Chief stew. Dealing with everything from visa requirements to crew certification and finance management, it's an all-encompassing and highly pressured role.
Some essential skills that a

yacht Purser should possess:
Finance or basic bookkeeping knowledge

Good communication skills

People management

Event organisation skills

Experience in dealing with suppliers

Concierge or hospitality experience


Additionally, you will need to have the right level of qualifications for

the job

, such as:
Minimum five years' experience in the yacht industry

Excellent IT skills (Excel, Word, Power point, accounting software)

Experience in ISM and ISPS

Finance management

Plus a business or accounting degree will help, as well as speaking another language
Boosting Your CV
With fierce competition for Purser jobs, you may find that you need to bolster your CV to enhance your recruitment chances.
You may find attending a specific yacht purser course or gaining a management and leadership certificate will help you land that highly competitive position. Bear in mind that every purser role is different and may have different requirements and expectations depending on the size of yacht and the make up of the captain and crew. It is important to research your market and destination before investing time and money into training.  It may be worth going and speaking to a recruitment agent that has experience in working with a number of different yacht owners and management companies so that they can help you with the differing requirements needed.
Ready, Set, Sail!
Once you're ready to move up the ranks, it's time to dive right in! This means updating your CV to show off your skills and include any recent yacht training courses you've undertaken.
As well as circulating your CV to contacts, it's essential to register with an agency that specialises in yacht jobs and recruitment. With a close and trusted network, an agent will work hard to put you forward for some of the best yacht jobs Europe and other destinations have to offer.
Do keep in mind that yacht Purser vacancies usually exist on 70m+ yachts so having large yacht experience under your belt can also be advantageous.
Salary Expectations
Much like the rest of the yachting industry, the yacht purser salary is well remunerated.
A yacht purser can expect a starting salary from €5,000 and going up to €7, 000 a month for the more experienced candidates. Although rotational jobs are fairly common for pursers you may well have to take a non-rotational role at first to get that all important experience.
Ways to Boost Your Earning Potential
Although the yacht Purser salary is already well compensated, there are a few ways to maximise your earning potential, as follows:
If you don't mind being located offshore all-year round, salary expectations can be higher for permanent pursers

Apply for roles via a recruitment agent, they will help negotiate the

salary on your behalf,

pushing for the best deal possible

Opt for roles on charter yachts. Those all-important tips can almost double your annual salary but you will work hard for it!

Lighthouse Careers is the leading recruitment agency for yacht jobs. Our wealth of experience, black book of contacts, and personalised service means that we will find the perfect Purser yacht jobs for you.
To learn more, get in touch today!